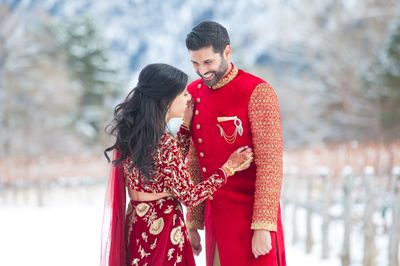 Kiran & Kyle
Picture a French-style estate set against the backdrop of the majestic Wasatch Mountains. Add in the cold, warmth of a Utah winter then mix in the color and beauty of a traditional Indian wedding and you have Kiran and Kyle's wedding at the beautiful La Caille estate in Sandy, Utah.
Guests for this amazing wedding stayed at The Grand America Hotel in Salt Lake City, Utah where Kiran and Kyle donned elegant, formal red and gold attire as they prepared for their traditional Hindu wedding ceremony. The light snow-dusting created a splendid environment for some amazing pictures which Braja Mandala of Braja Mandala Wedding Photography captured beautifully.
This is one wedding we won't soon forget.
Kiran & Kyle