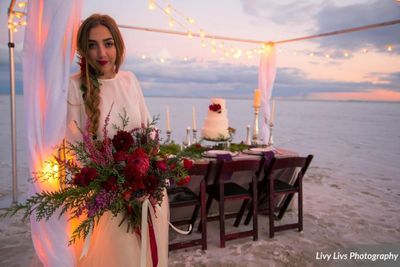 Saltair Wedding
Life contrasts intrigue us and help us appreciate the good and difficult times we face. A fiery sunset is appreciated more when reflected off the glowing remnants of an earlier tempestuous storm. An unexpected spice in a traditional dish whets our appetite and leaves our tongue searching the rest of the meal for unusual and exotic flavors to delight our palate.
The sun peering around clouds only to hide as storm clouds threaten. The glowing warmth of bistro lights and candles shining with hope as the storm clouds threaten and then are whisked away causing the artificial light to fade when confronted by the sun's rich brightness.
Let the Saltair Wedding Style Shoot inspire you as you face life and love's challenges.
Saltair Wedding